What if you're disappointed?
Posted on 5th June 2019
in Dreams
---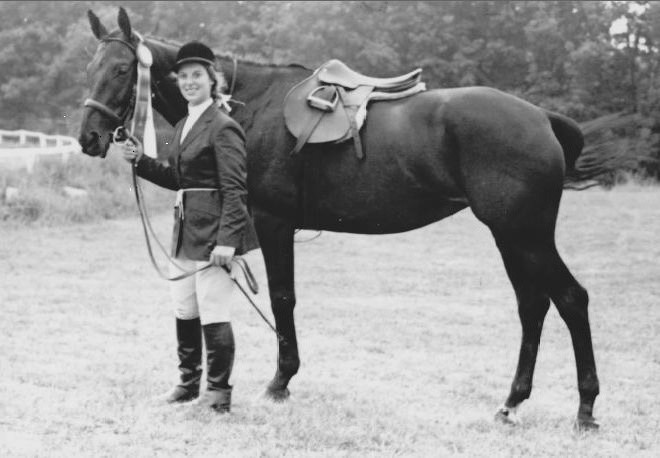 I had many ponies and horses that I showed during my riding career. This is an imagined scenario describing similar things I experienced. I hope it inspires you.
What if your big dream is to become a champion horseback rider. You've worked for years for the big day when you enter your first horse show. You've stayed up late to prepare your pony for the big event. All you did was toss and turn in your bed the night before, wondering what would happen at the show.
In the morning you wake up with the sun barely peeking into your window. You dress for the show with your new boots and jodhpurs, your white shirt and special monogrammed choker. Before you dash downstairs you grab your helmet and your bows for your braids. 'Mom, can you braid my hair with these pretty blue bows?" you ask.
"I'll fix your braids while you eat breakfast," Mom says. I nibble at my toast and jam.
"Time to go, Mom," I have to check Sparkles braids before we leave. Did you know I put blue bows on them so she would match mine?"
Okay, honey, you're all set. You know I get nervous at shows, but you look adorable. Daddy is warming up the car. Here's a kiss for luck."
"Thanks, Mom, love you," I said, hurrying out the door.
When my class finally starts, I feel butterflies fluttering in my tummy. I kiss Sparkles on her soft, grey nose. Daddy lifts me on her back and kisses me for luck. Sparkles seems to listen to the judges commands. "All walk, please," he says. I'm trying to sit straight and keep my legs from wiggling when the judge says, "All trot, please. But Sparkles and I get squeezed against the rail and she goes back to a walk, right in front of the judge. Then we line up in the center of the ring and wait. My heart is going thump, thump, in my chest. The judge calls out the six winning numbers and mine is not there.
When Sparkles and I leave the ring, I swallow hard to keep a tear from falling down my cheek.
"Honey, you did great. It's a shame Sparkles started walking right in front of the judge, but you handled it well. Did you know experience teaches you great lessons? Next time, you'll be a little more careful to stay out in the open, where you're less likely to have trouble. I'm proud of you for doing your best. Next time you'll do even better. Remember the most important thing is doing your best."
My dad gave me similar advice many times when I was a little girl. He reminded me that there was always next time and riding is a learning process. Experience makes you better. He always said perseverance is the key to success and I did enjoy that when my horse, Peach and I became champions. Remember, before we win, we begin. Better days are ahead. Hold on to your dream and keep working toward your goals. Wonderful things can happen.
copyright 2019: Deanie Humphrys-Dunne
Tags: Deanie Humphrys-Dunne, disappointment, dream, Horseback riding, horses horse lovers, My Life at Sweetbrier