children's books: My Life at Sweetbrier-A Life Changed by Horses
---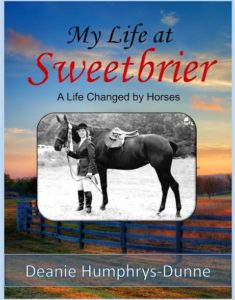 Deanie Humphrys-Dunne has a new children's book now Available!. Check out the book description here:
My Life at Sweetbrier:                            
A Life Changed by Horses
by Deanie Humphrys-Dunne
What if you grew up on a horse farm and your single passion was to become a champion horseback rider? The problem is, you were born with a disability. Doctors tell your parents you'll never walk, let alone ride. What will happen next? What does her dad do that changes her life? Will a failed racehorse and a handicapped girl become a winning team? This is the author's true story of her journey. Even if Deanie prevails, will she find exactly the right horse to help her
win?
MondayCreekpublishing.com
Amazon:
https://www.amazon.com/s/ref=nb_sb_ss_rsis_1_14?url=search-alias%3Dstripbooks&field-keywords=my+life+at+sweetbrier-a+life+changed+by+horses&sprefix=My+Life+at+Swe%2Caps%2C152&rh=n%3A283155%2Ck%3Amy+life+at+sweetbrier-a+life+changed+by+horses
Juvenile Non-Fiction
About the Author:
Deanie Humphrys-Dunne is an award-winning children's author. She is a graduate of the Institute of Children's Literature and has been featured on several author websites. Her children's books have won a number of awards and recognition including; The Feathered Quill silver medal, The Purple Dragonfly Honorable Mention, CLIPPA finalist, Reader's Favorite silver medal, and The AuthorsShow.com "50 Great Writers You Should Be Reading.".
Her story, My Life at Sweetbrier, is a captivating book teaches children life lessons such as perseverance and setting goals. Deanie believes every child should be inspired to reach for their dreams. Your child can beat the odds like she did.
Deanie's sister, Holly Humphrys-Bajaj, has beautifully illustrated four of Deanie's fictional  children's books:  Charlie the Horse, Charlene the Star, Charlene the Star and Hattie's Heroes, and Charlene the Star and Bentley Bulldog. You may see some of her work on Holly' Facebook page: https://www.facebook.com/Holly-Bajaj-artist-and-illustrator-150161485036527/
copyright Deanie Humphrys-Dunne 2017
Tags: children's books, Deanie Humphrys-Dunne, Gina McKnight, horses, juvenile non-fiction, Monday Creek Publishing, My Life at Sweetbrier